MYO Ticket Shop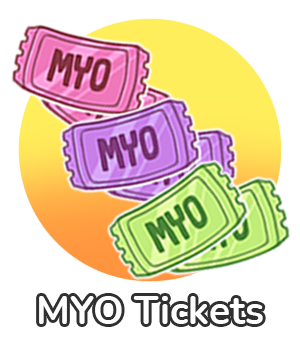 myo ticket shop
Purchase a MYO Ticket here! MYO means Make Your Own!
Note:
Once you buy a MYO Ticket here, please contact TaNa-Jo here or on DeviantArt telling her you've purchased a MYO Ticket. Best is to have a Lorekeeper account.
The tickets you buy here for Jelloblocks
are just items in your inventory. Once I know you have purchased one - PayPal, Points or Jelloblocks - I will give you a MYO Slot and remove the item from your inventory! 
Items
Rare MYO Ticket
Cost:
200
Uncommon MYO Ticket
Cost:
150
Common Ancient MYO Ticket
Cost:
100
Rare Ancient MYO Ticket
Cost:
200

Uncommon Ancient MYO Ticket
Cost:
150